Every time I open up one of my backwoods, farming, rural living, and/or gardening magazines, there is often a hobby farm being talked about. The quaint farms often have eye rolling names like "Blessed Sunny acres", "Bountiful Acres" or "Petunia Hills". Usually the lady of the farm is wearing a crisp and flowing white dress of the finest cotton. With nary a dirt smudge on it. The children are helpful, with rosy cheeks, and the gentleman has a 2 day beard and the cleanest britches ever seen on a farm.
No farm or garden is free in the literal sense. You'll give a lot of sweat, time, blood, broken nails and probably a lot of money, to get it where you want. Just don't me started on the meme floating out on Facebook of "Growing your own food is like printing your own money". My rebuttal to that one is here. Don't get me wrong, you WILL eat better with the hard work and time put in, but it won't be easy. You will, though, sleep soundly. You probably won't be tending your garden in a clean, billowy cotton dress, with perfect mother earth curls in your hair. You might even fall repeatedly into blackberry brambles, trying to snag a last berry, with a rotting wooden board against your chest to keep the stabs down.
So Never~Free Farm was born. Guarded over by a clacking and talkative murder of crows, the farm/homestead is producing many interesting edibles. There is weeding, digging, hoeing, watering, but when the berries are ripe, I won't want to be anywhere else.
Our dream started in 2014 when we bought our property. We had a large, sun-filled lot that allowed gardening. The soil was far from perfect (if anything, it was nearly dead and hard packed as urban land often is). With a lot of work, our dream has been coming to fruition. We are in the center of town, in Maple Valley, Wa, living along a protected greenbelt. Our goal is to have self-sufficiency for us, and to offer unusual and uncommon edible plants and produce for sale, so others can enjoy them, through our farm part of the homestead.
Never Free Farm sits on a 1/3 of an acre, in an urban setting.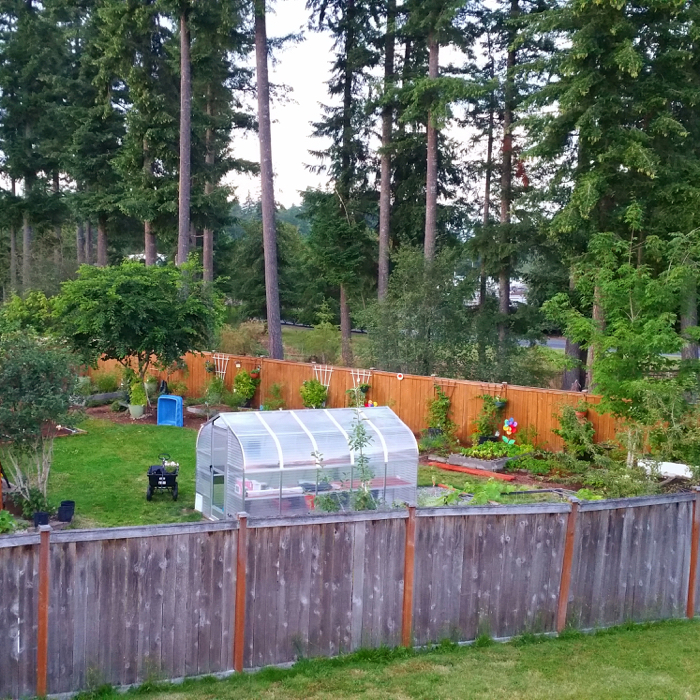 We practice organic methods, with recovering the soil to health. Our farm features a greenhouse, in ground beds, raised beds, and a number of experimental growing containers. We are currently working on running our greenhouse on all solar energy, and our water is reclaimed rain. We have a varied orchard, many berry plants (with a focus on blueberries, raspberries, and strawberries), and herb plants. Our farm also hosts two beehives.
Kirk, Sarah, Walker & Alistaire.
Privacy Policy:
This blog does not share personal information with third parties, nor do we store any information about your visit to this blog other than to analyze and optimize your content and reading experience through the use of cookies.
You can turn off the use of cookies at anytime by changing your specific browser settings, on your end.
We are not responsible for republished content from this blog, on other blogs, or websites without our permission.
This privacy policy is subject to change without notice and was last updated on 01/30/2018. If you have any questions feel free to contact us.